Mandriva
1. LG CD-ROM drive problem-
After attempting to install 9.2 the CD-ROM drive is appearing to be physically dead.
Shutdown PC, connect data IDE cable, set jumper as noted here:




Do not put plug in power to the CD-ROM drive yet.
After floppy disk is finished booting hold the eject button on the drive and plug in the power cable at the same time.
The LED on the drive should be lit now, let go of eject button.
Run the firmware update utility.

The floppy mentioned above is any type of DOS boot disk with the firmware update utility from LG's site also on the disk
LG site: http://us.lgservice.com

Models affected:
CRD-8482B
(Source: LG's site & Dell Community Forum)

2. Mandriva specific utilities:
rpmdrake - packaging management
drakwizard - server wizards
XFdrake - X configuration
harddrake2 - device manager
drakxtv - tv card configuration
keyboarddrake - keyboard layout
mousedrake - mouse settings
diskdrake - partition mangement
drakconnect - configure network connections
drakgw - configure a system as a gateway (internet connection sharing)
drakproxy - configure proxies
drakboot - autologin configuration
printerdrake - printer management
drakbug - bug reporting tool
drakconf - start Mandrake Control Center
drakfloppy - bootdisk creator ...test out
drakautoinst - automated installation bootdisk creator
drakclock - date and time configuration
draksec - security? test this out
drakperm - file permissions? test this out
menudrake - menu customization? test out
drakfirewall - firewall configuration
drakedm - display manager setup
userdrake - user management? test out
drakxservices - startup services configuration
drakfont - font management? test it out
drakbackup - file backup? test it out
logdrake - log management? test it out

3. Red Hat specific utilities:
system-install-packages ?

VNC
1. VNC over SSH: Using Putty and TightVNC
All of this info is based off of Benjamin J. Weiss' tutorial "Tunneling Tight-VNC over ssh using PuTTY"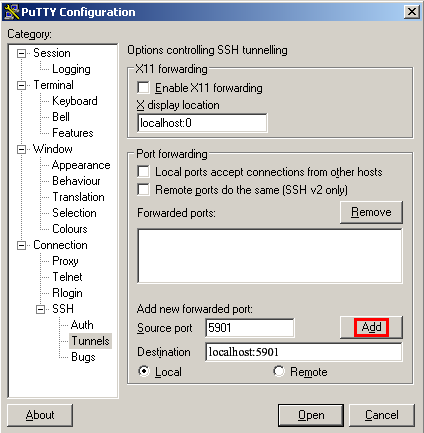 Then start a SSH session as usual and you'll be able to connect like this:





2. Changing the desktop environment for VNC sessions, the config file is /~/.vnc/xstartup
I was able to switch my sessions to GNOME by changing the xstartup contents to:
exec /etc/X11/gdm/Xsession gnome-session

This has worked for me, whether it's the correct way to accomplish this..I'm not sure yet.

3. Turning off the spatial mode of Nautilus in GNOME - run "gconf-editor" (which might need to be installed) then go to
apps->nautilus->preference and check "always_use_browser".

4. Check linux distribution for correct daylight savings time settings for 2007 with the following command:
[root@emobile resinblade]# zdump -v /etc/localtime | grep 2007
/etc/localtime Sun Mar 11 06:59:59 2007 UTC = Sun Mar 11 01:59:59 2007 EST isdst=0 gmtoff=-18000
/etc/localtime Sun Mar 11 07:00:00 2007 UTC = Sun Mar 11 03:00:00 2007 EDT isdst=1 gmtoff=-14400
/etc/localtime Sun Nov 4 05:59:59 2007 UTC = Sun Nov 4 01:59:59 2007 EDT isdst=1 gmtoff=-14400
/etc/localtime Sun Nov 4 06:00:00 2007 UTC = Sun Nov 4 01:00:00 2007 EST isdst=0 gmtoff=-18000
(Source: Mandriva Mailing List)

5. After running the AfterStep WM on Mandriva 2007, the AfterStep theme persists even while in KDE/Gnome.